What (and WHERE?) exactly IS the 2016 Global Mural Conference?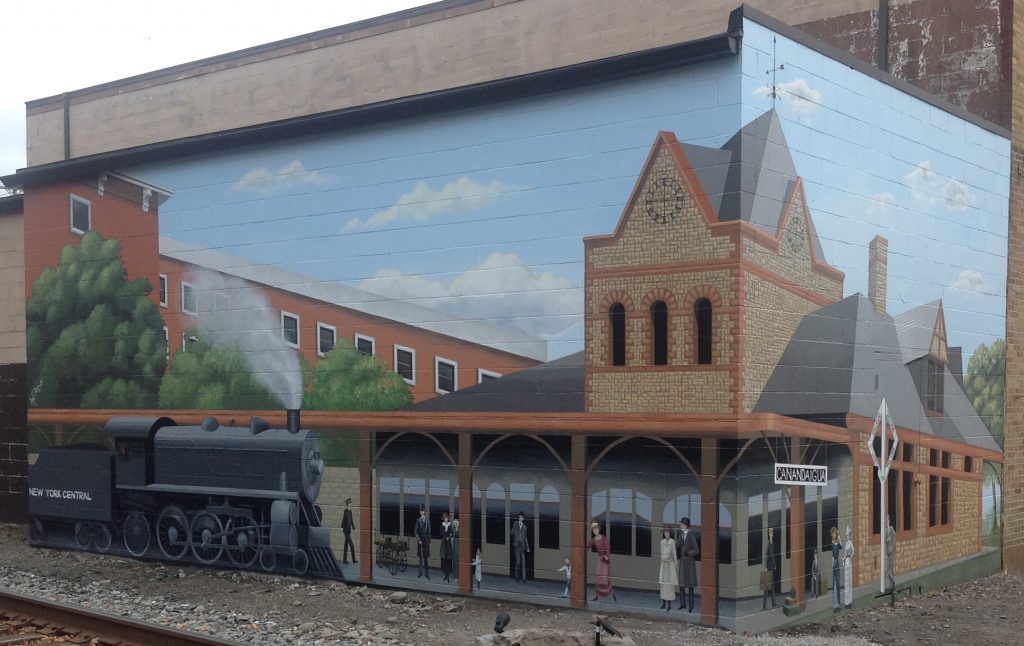 The 10th Global Mural Conference is coming to Fairport, NY, from September 19 – 24, 2016. Even though much of the Conference will be located at Woodcliff Hotel and Spa, several features of the Conference will spread into the surrounding Finger Lakes region of Upstate New York. If you're not familiar with Upstate New York, you may not know about our gorgeous scenery: rolling hills lined with orchards and vineyards with pristine lakes (about 10 long ones in a row, hence the name) nestled in between. If you are attending and think you're heading to New York City, this couldn't be farther from that aesthetic. Fairport is about a 6-hour drive from New York City. We are about 60 miles south of Lake Ontario. Our closest airport is Rochester, about 25 miles to the West.
The Global Mural Conference (GMC) is a week packed with several features and events centered around the love of murals. The GMC will interest several types of people:
artists who paint murals
businesses, organizations and municipalities who support mural projects
those interested in preserving historic murals in their community
and those who love to view murals
The definition of a mural is "a painting or other work of art executed directly on a wall". Mural art has taken on various trends over the decades, yet remains one of the oldest and most universally recognized forms of art. During the GMC, there will be several fascinating presenters who will address such topics as the role of public art in economic development and quality of life (presented by Katherine Perry). We even have a mosaic-style mural being completed by school children across our whole state.
As a mural artist myself, I find it intriguing how much influence murals have on the way we experience interior or exterior spaces. Murals tell stories – even if not literally. There is a story within the placement, the materials, and the transformation of the architecture, all as a result of the treatment of materials. Murals are interactive; meaning that they automatically "call" us to stop and pay attention. I think this is why they are so intriguing to all people, regardless of age, social stature or ethnicity. Even the earliest human cave-dwellers knew the power of murals!
During the conference, there will be NOT be cave-dwellers. But there WILL be international mural artists, each painting under a tent, for the conference attendees and the public to enjoy each day for six days! This is a feature of the GMC called the Erie Canal Heritage Mural Expo. The Expo is a fascinating and highly educational multicultural art event. We are so excited to bring this feature to the GMC!
Because this is the 10th GMC, it is a very special event, and our steering committee has decided to incorporate "heritage" as well as the "art" aspect in mural creation, preservation, and appreciation. Many murals in our area highlight historic people, places and events. During the Conference, there is a whole day spent touring our beautiful area by bus. You'll not only be able to see several murals, but also some of our beautiful historic sights. All the while, we have mobile presentations on the bus to entertain and enlighten you with lots of great information and entertainment!
I hope to have touched on a few of the reasons we'd love to have you attend, (or sponsor if you can!) this unique experience!