"Each picture tells a story and how you look at it, defines what you see."
The answer? Well that really is entirely up to you! You can say ONE or TWO HUNDRED!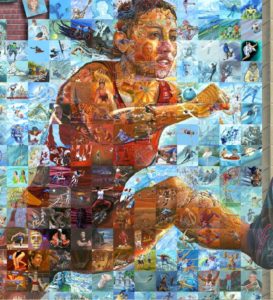 This photo is actually a part of a larger picture, a mosaic. This mosaic was done as a collaborative effort between, Quebec, Sherbrooke and St. Alberta. This mosaic, whose idea originated in Alberta, was designed using two optical illusions. These optical illusions were unique in their processes and at the same time taking a nation and unifying it through art. This project provided the opportunity for 200 artists from virtually every territory and providence to participate in a celebration of Canada's sports history.
Each artist in this project was given a 16in x 16in panel. With mural theme as a guide and acrylic paints to use, artists were set free to create a portion of sports history. The panels were guided by specific color tones and specific lines to keep the integrity of the original image intact. From there the sky was the limit for the artists to unleash creativity and expression from within. To see the completed mosaic, meet the artists and look at other projects, you can visit here.
A mosaic is a powerful expression of creativity, vision and story. A story that is made up of multiple different pieces, each given the freedom to tell their own story within the larger story, bringing unity in expression and vision. Instead of one artist, with strokes, expertise, emotion and skill, creating a grand piece of art, multiple artists create together to take part in a larger expression. Moving pieces coming together in stillness to become one creation.
 Each picture tells a story and how you look at it, defines what you see.
Look at the individual pieces of art and you see just that, individual artist expressions. Step back, look, and what you see is the end of the story. The story that all the little pieces were telling you, much like the chapters in one of life's great novels.
Our mosaic. Our story. Our history.
Our own mosaic is coming. Our artistic novel is being written and the chapters written or rather painted in collaboration. To say that we are excited might be a gross under statement.  The artists have been found and the pieces are being created. We have gathered students all through out the area, rallied art teachers and have asked them to create, speak and through a mosaic expression. A mosaic expression telling the story of the historic Eric Canal. On the wake of the bicentennial, a story of our rich heritage is being told by students everywhere. They are telling us about history and taking part in history in the making, simultaneously.
With specifications, color palate guidelines, grid markers and out lines, the 6in x 6in pieces have been commissioned in creation of the grand vision. The pieces, while they are rolling in, are more than our wildest dreams could imagine. Stories being told by students with skills and talents one could only dream of, working together to create the final masterpiece. A masterpiece that is history in the making and truly "Preserving Heritage Through Community Art".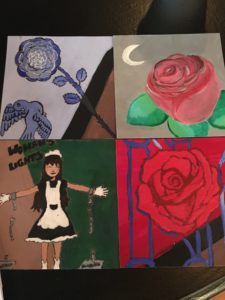 Join us for Global Mural Conference and Expo, to see history in the making and the preservation of heritage through community art. We just can not wait!
Register for the conference here.