How Murals Give A Glimpse Into the Past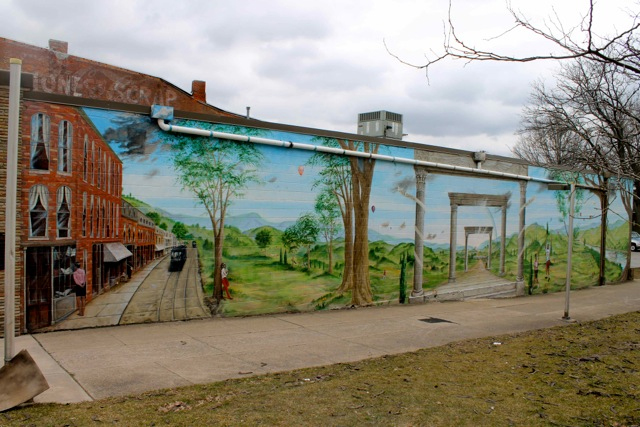 If you were traveling by bike or boat east or west through Lyons, New York, you'd know right away Lyons' past.  A mural by James Zeger, facing the canal and bike trail, clearly shows the commercial buildings along the old canal, the Syracuse-Rochester trolley crossing the canal and a bridge linking the north to the south side of the canal.  The colorful image gives the town a sense of place in history.  Its cheap waterway contributed to New York becoming the "Empire State, " it linked towns from Albany to Buffalo, bringing immigrants west, and provided a stop on the Underground Railway for escaped slaves going north to Lake Ontario.
The transportation hub depicted in the mural takes only a glimpse for the visitor to understand.  Art provides access into a community, and murals do it in a large way with color and content.  When a community funds a mural, it works with the artist and her skills to translate its past, its culture and dreams into a physical representation.  With our Mural Expo we aim to to support towns and villages in their collaboration with mural artists to transform their communities, showing visitors and residents alike where they've been, what they aspire to and what they love about their places.
During the Global Mural Conference, artists will be spending the week on site at the conference painting murals for communities who have worked with them in the creation of the murals.  Over the week of the conference the public will be able to watch the process of taking the ideas and turning them into art and talk to the artist about the process. Itself.  By engaging the public, the conference hopes to inspire the creation of murals well after the Expo has ended.