Speakers Announced for the 2016 Global Mural Conference 
A roster of speakers at this year's Global Mural Conference in Fairport, New York, September 23-24 will address all aspects of public art for a wide variety of audiences. A biennial event, this year's conference will bring together perspectives of artists, community organizers and planners and address the role of art in economic development and tourism. Golden Artist Colors and the 2016 Global Mural Conference will offer $100 registration scholarships to high school and college art students who want to attend the conference September 23 and 24. Register here.
Serge Malenfant is president of the Global Mural Arts & Cultural Tourism Association (GMACTA). This association was founded in 1997 by a true inspiration, Dr. Karl Schultz from Chemainus, BC, Canada. Dr. Schultz helped forge the town to become a major tourist attraction through its murals programs. Its success has inspired many other towns in different countries around the world to explore this avenue. GMACTA's mission is to market and publicize the abundant wealth of artists, towns and cultural events around the Globe. Its objective is to create partnerships and networking between cities, artists, business, art enthusiasts, economic development authorities and tourism organizations.
Timothy Madigan, an associate professor of philosophy at St. John Fisher College in Rochester, will share how Frederick Douglass became an international figure of peace through the murals of Danny Devenny, a former IRA member and current Peace Activist.
Erich Lehman, a Co-Curator and Lead Organizer of Wall/Therapy, has been transforming walls, buildings and neighborhoods in Rochester, and is now internationally known for a movement that has sparked local conversations. His talk is titled "A Visual Intervention through Muralism." and will discuss the process for curating artists and locations.
George Fritz, "Navigating the Path from Idea to Community Treasure: The Story of the mural Guardian of the Waters," is the topic of George Fritz' presentation, which will take the audience from start to finish to include both the joys and frustrations of bringing a mural to fruition in Lockport, New York.
Joe Concra, a painter, is co-founder and executive director of O+ Festival, a national nonprofit headquartered in Kingston, New York. The festival's goal is to exchange healthcare for art, including large-scale murals, thus raising awareness of the gaps in health for artists, and the power of art to heal communities. He will focus on the impact art can have on a communities' overall health.
G. Peter Jemison, a Heron clan Seneca from Cattaraugus and manager of the Ganondagan Historic Site and Seneca Cultural Center, is also an artist of national fame. He will relate the idea of the Message of Peace through the story of the origin of the Seneca.
Ellen McHale, will present "Art: A Catalyst for Change." As Executive Director of the New York Folklore Society, she will share her expertise on folklore and folk art as it relates to communities, as well as the place-marking program of William G. Pomeroy Foundation.
Michelle Truett's "Three murals: One historic Utica neighborhood" will share her experience of using a grant from National Grid in making possible the murals in Bagg's Square and the resultant revitalization of the neighborhood.
Amy Colburn, graduated from the University of Dayton, Ohio, with a Bachelor of Fine Arts degree and a major in Visual Communication Design with a concentration in illustration in 1993. Amy is an artist who creates commercial and residential murals, as well as canvas paintings. She operates out of her studio, in Bristol, NY near Canandaigua Lake. Amy is also the creator and publisher of a unique series of themed illustrated alphabet cards that are sold in shops locally and across the country. For more about Amy and her work, please visit www.amycolburn.com. Amy will lead an interactive discussion with artists who will be painting during the conference week at the Erie Canal Heritage Mural Expo. Artists will share their experiences, knowledge of mural making followed with time for questions and answers.
Gigi Alvare, Director of Education at the Rockwell Art Museum in Corning, New York and her colleagues Dave Quackenbush, Lead Teacher and Brad Leiby, Artist in Residence, will relate their experience working with students in Corning to create an expansive and ongoing mural project, with the Corning-Painted Post Area School District High School Learning Center, titled the Alley Art Project. Students designed and painted birds and symbols that represent aspects of their hopes for their community, learning about art, design, and the research associated with the process of art making – all the while cultivating a sense of pride, ownership, and connection to the community.
In addition to the above, speakers and panel discussions will address the practical aspects of murals: materials, installation, maintenance and financing. This conference will provide unique opportunities for attendees to bring their own questions to the speakers and network with others on the issues of public art. Registration is open to all through the Global Mural Conference website: www.gmc2016.com
###
Mural Mania Receives Funding For Heritage Mural Expo
Upstate New York's Mural Mania program recently received a $2000 grant awarded by the Erie Canalway National Corridor. The funding is to support Mural Mania as host of the Erie Canal Heritage Mural Expo. "Preserving Our Heritage Through Art," is an expo being held during the 2016 Global Mural Conference, September 18-25 in Fairport, NY. Mark DeCracker, Global Mural Conference Committee chair and co-founder of Mural Mania accepted the award presented by New York Congressman John Katko recently in Syracuse along with ten other project recipients. The grants program yearly funds innovative education and preservation projects aimed at inspiring people to learn more about New York's legendary canals and further explore the Erie Canalway National Heritage Corridor.
The funding will help support the Expo that will feature up to twenty mural artists from all over the globe coming together for this exciting multicultural public art event. Artists from across the globe will set up in a tent to paint the murals at the Woodcliff Hotel and Spa. The event will be open to the public all week to view and interact with the artists while they paint. Communities all across New York State are being invited to help sponsor an artist to paint a mural that will highlight history from their area. After the conference the murals will be permanently placed in the sponsoring communities.
For more information about sponsoring an artist, registration for the conference, and other information about the conference, visit: http://gmc2016.com, or contact Mark DeCracker at (315) 573-8170; email: mark@gmc2016.com.
###
Global Mural Conference 2016 Unveiling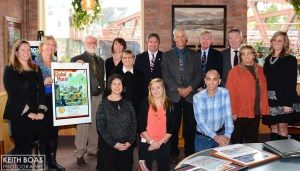 On Wednesday, October 28, 2015 inFairport N.Y. at the Towpath Café the Global Mural Conference unveiled its future plans to the public that will be held along the Erie Canal next year.
"Today's announcement is great news for the Finger Lakes Region and for everyone along the Erie Canal Corridor," Senator Gillibrand said. "From Buffalo to Lake Champlain, the Erie Canal continues to fuel our economy and provide New Yorkers with miles of adventure and endless recreation. This convention will bring welcome attention to the wealth of murals along the Erie Canal, as well as highlight everything that the region has to offer. It will bring together international, national, and local artists and give greater visibility to the local talent here in the area. I am excited for this conference to be in the Rochester region.  I know it will encourage community discussion about how the arts can help to narrate the story of the Erie Canal and showcase our history in unique ways." The Conference was explained to the community by Mark DeCracker, co-chair, as an opportunity to bring a unique blend of art and heritage through mural painting to enrich the Erie Canal region.
Walworth Town Historian, Gene Bavis, along with DeCracker,stated that winning the opportunity to host the 2016 Global Mural Conference would preserve heritage, build community with art, and increase tourism. An opportunity that can't be missed for the community to create more history along the Erie Canal National Heritage Corridor."
"It's a beautiful spot where we were able to promote heritage and art right here, so this became the ideal location and the Fairport folks wanted us," Bavis said.
Blueprints to paint a mural on the Masonic Lodge were unveiled by Corky Gross, Muralist and College Art professor. Corky will be painting this mural during the summer of 2016; this mural will be dedicated during the conference.
One of the features of he conference will be the Erie Canal Heritage Mural Expo where twenty painters from around the world will be painting under a tent at the Woodcliff on Evolon.  The Evolon later will be applied to the wall like wallpaper then it will be sealed and become a permanent mural.
International, national and local artists will come together to design and create these pieces incorporating a different part of our history to each mural, which will be roughly 7' high and 16' long. This will give greater and global visibility to the talented artists in the Rochester and Finger Lakes area,
Another key part of the Conference will be the Erie Canal Montage Mural. This mural will be painted by school children within New York State under the direction of artist Lisa Petrosino. Art teachers from across the state will be given a small piece of Evolon and assigned a certain color or design. When the children's pieces of art are put together they will create a giant mural montage, which will be a stunning feature of the conference.
Posters beautifully created by Cindy Harris, Graphic Designer, incorporating past Conferences and murals, were displayed and ready to be distributed.
Maggie Brooks, County Executive, attended the event showing her full support of the 2016 Global Mural Conference, as well as a representative for our Senator Gillibrand.