The 10th Biennial Global Mural Conference (GMC) took place in Fairport, NY in September 2016. The theme, "Preserving Heritage Through Community Art," spotlighted several murals depicting the everyday life and significant events in New York State's history.
Under the direction of Lisa Petrosino, New York State Art Teachers (K-12) along with several other children's groups were invited to collaborate in effort to create a mosaic mural to highlight the Erie Canal. The completed mural will celebrate the 200th year anniversary of breaking ground on the Erie Canal, July 4, 1817. The location of the mural's permanent installation will be determined at a later date.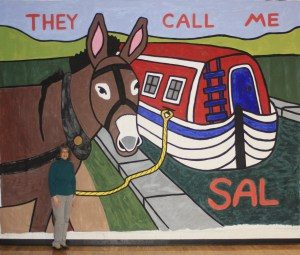 Familiar icons of the Erie Canal, a mule and a packet boat, have already been painted onto a synthetic material called, Evolon. The original painting serves as a base-coat of paint and underpainting for the student artwork. The 12'x16' mural was cut into 768 mosaic tiles that are 6" squares. Each student received one colored tile to paint a scene from either their local heritage, or the Erie Canal's history. Suggested topics could be from the Underground Railroad, Women's Suffrage, Native American culture, flora and fauna of New York State. When all of the mosaic pieces are reassembled, the montage of individual student paintings will reveal the original image again.
Art teachers who participate were given information needed to support and supervise this project. They received a sample of the Evolon material, and a $20 gift coupon toward the purchase of paint. We would like to thank Atlantic Papers, Greystone Paper Inc., and Blick Art Materials for these donations.
For more information, contact Lisa at (315) 945-7251, or Lisa@GMC2016.com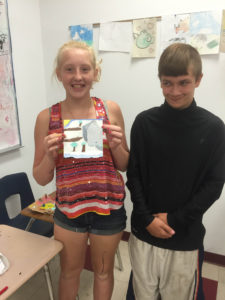 To give viewers an idea here is a mural mosaic from Sherbrooke, Quebec home of the 2014 Global Mural Conference.